[ad_1]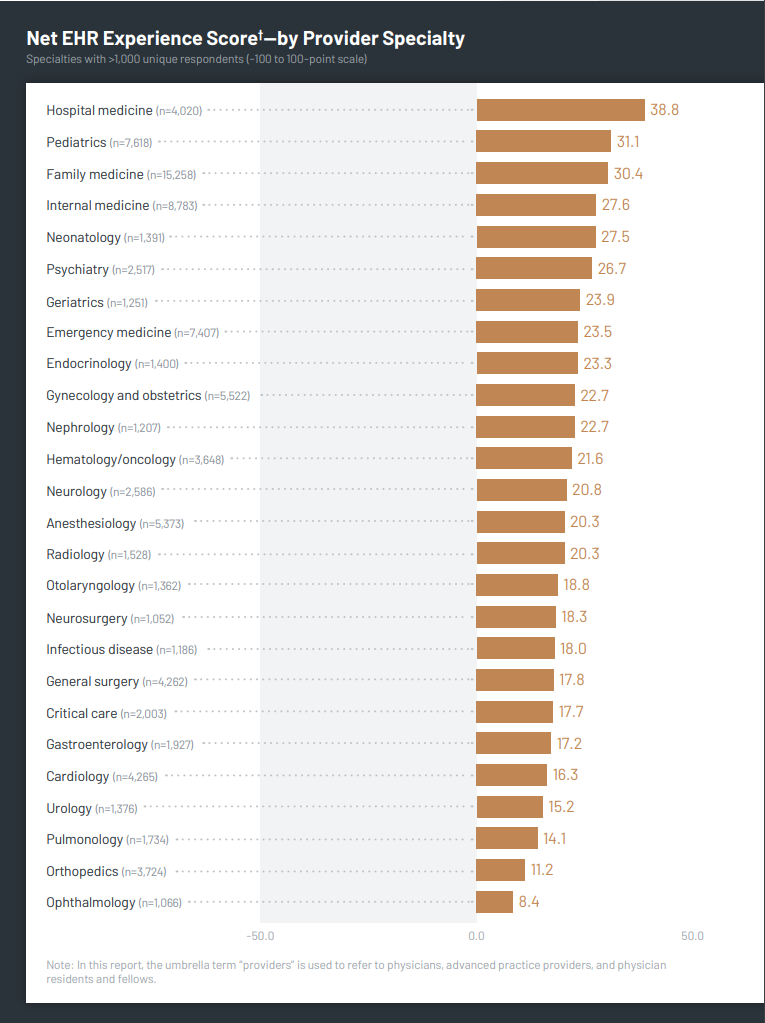 What you should know:
– One of the ways organizations can target improvements for those who are less satisfied is to examine EHR satisfaction by specialty – there is currently a gap of approximately 30 points between the most satisfied specialty (hospital medicine ) and the least satisfied specialty (ophthalmology).
– The focus of this new report from the KLAS Arch Collaborative, "Explore EHR Satisfaction by Vendor Specialtyis to help readers understand this variation and discover how to bridge the gaps between specialties.
---
Overview of EHR Satisfaction by Vendor Specialty
Satisfaction with the EHR varies widely by specialty, with a gap of around 30 points† between the most satisfied specialty (hospital medicine) and the least satisfied specialty (ophthalmology). This variation highlights the fact that providers of different specialties have a different EHR experience: they may work in different environments, experience different training, have different workflow and functionality needs, and vary in their involvement in EHR governance and leadership. Physicians and advanced practice providers who are very satisfied with the EHR are almost five times more likely to say they plan to stay with their organization, compared to their peers who are very dissatisfied. this illustrates how technology can impact the clinician's experience.
A new report from KLAS explores satisfaction with EHRs across specialties and highlights how well organizations are doing to improve satisfaction for specific groups of providers. The report information is listed and explained below:
1. EHR Fundamentals: Functionality, Efficiency, and Patient-Centered Care
A vendor's overall NEES is closely tied to their agreement that the EHR has the functionality they need. Across specialties, the average percentage of vendors who agree that the EHR has the functionality needed for their specific area of ​​interest is 54.6%, and most specialties report percentages below this. Here are some other notable trends in specialty-specific functionality satisfaction:
– Orthopedics, Respirology, Radiology and Ophthalmology providers find that the EHR lacks the functionality needed for their specific area of ​​practice. This is particularly notable for radiologists, as they have an overall mid-level net EHR experience score.
– This pattern is reversed for anesthesiologists, who also report mid-level NEES but are in the top quartile for satisfaction with functionality.
– Providers who work in the specialties of hospital medicine, family medicine, internal medicine, and emergency medicine are most likely to agree that the EHR has the functionality they need.
There are also variations between specialties when it comes to agreement that the EHR enables efficiency. Family medicine and emergency medicine have an average efficiency rating; this contrasts with their above average NEES scores and top quartile satisfaction with functionality. Otolaryngology, urology and orthopedics remain at the bottom of the pack, as is the case for functional satisfaction.
Across all specialties, the average percentage of providers who agree that the EHR enables patient-centered care is 44.9%. Most specialties obtain results below this average (the average is inflated by the large sample for family medicine). Of particular note, Radiology has above-average agreement that the EHR enables patient-centered care despite reporting a lower NEES.
2. Specialty-Specific Training Improves Provider Perceptions of EHR Functionality
Vendors who receive specialty-specific workflow training are over 24 times more likely to agree that the EHR has the functionality they need. A case study from Kaiser Permanente Southern California describes their efforts to improve initial and ongoing EHR training programs by incorporating workflow-specific training. Maintaining a high level of EHR training and support can be challenging for the organization due to its large geographic spread. Their onboarding training is based on the needs of clinicians' unique work environments, and each session features physician champions and rounds of onsite support. Outpatient training reinforces workflow-based training with specialty-specific case studies, and ED integration allows for customization and partnership with on-the-job mentors.
3. Specialty-Specific Perceptions of Provider Delivery
The Arch Collaborative clinician survey asks respondents to rate the performance of three key stakeholders: the EHR vendor, organizational and IT leadership, and the end users themselves. There are notable differences in how the various specialties rate the performance of their EHR provider: hospital medicine providers are the most satisfied with their EHR provider, while ophthalmologists are the least satisfied. Comments from respondents who practice in specialties who report less agreement that their EHR provider provides good performance show that many feel that their EHR does not have all the functionality needed for their specialty, that the EHR is detrimental to patient care and impairs efficiency. "The EHR was not designed to meet the needs of a critical care environment and is a leading cause of workplace stress and frustration." —Doctor in intensive care.
4. EHR Provider Specialty-Specific Satisfaction Trends
Examining the specialty score against other users of the same EHR demonstrates that EHR satisfaction may depend more on an individual user's specialty than the EHR used and can help organizations identify which specialties require the most attention. particular attention. Specialist vendor-specific data is only available to Cerner and Epic users (other EHR vendors do not have a large enough representation in the collaboration to be distributed). In both customer groups, Orthopedics and Cardiology have some of the lowest scores compared to their counterparts using the same EHR; regardless of the provider's average NEES, some common areas of frustration for these two specialties include functionality, the ability to provide quality care, and the provider's provision of a high-quality EHR.
The specialty with the highest score against each vendor's average is also the same in Cerner and Epic – for both customer groups, hospital drug vendors report NEES more than 10 points above the average of their respective EHRs. These vendors are particularly pleased with their workflow training, EHR functionality, and EHR ease of learning.
5. Best practices of organizations and specialties that go against satisfaction trends
A number of organizations that recently measured EHR satisfaction through the Arch Collaborative survey had abnormally high satisfaction in Anaesthesiology, Cardiology, Gynecology and Obstetrics and Orthopaedics. To understand the drivers of this unique success, KLAS conducted in-depth interviews with leaders of these organizations and also analyzed survey feedback from their highly satisfied vendors.
Anaesthesiology: Although anesthesiologists are in the middle of the pack for NEES, their score has seen the largest drop (13 points) since 2017 of any specialty examined in this research. Although personal effort is a frequently mentioned theme among highly satisfied anesthesiologists, it is important that providers do not feel like they have to learn EHR on their own. According to the 2020 Arch Collaborative Guide, clinicians should spend 3-5 hours per year brushing up on their EHR knowledge. This can include many different types of education, such as classroom education, email updates, tip sheets, one-on-one training, rounding up, and more.
Cardiology: With an average NEES of 16.3, cardiologists report one of the lowest EHR satisfactions. The Arch 2020 Collaborative Guide notes that because customization tools take time to set up, teaching customization is often not enough. Organizations will see more success with customization tools if they provide protected time to set them up. The guide also notes that providers who complete their documentation on the same day as the patient encounter report significantly higher satisfaction than those who do not. A major contributor to higher rates of same-day documentation is ensuring that IT management understands end-users' current workflows.
OBGYN: The average NEES for gynecology and obstetrics has remained in the middle of the pack since 2017, progressing by just over one point.
Orthopedics: Orthopedic providers report one of the lowest EHR satisfactions. The majority of these providers work in an outpatient setting, and many feel that the EHR was not designed for them. A case study from OrthoVirginia explains how they improved the EHR satisfaction of their orthopedic providers by 44 points. Their vendors felt they lacked EHR knowledge, support and use of advanced features was inconsistent, and the governance program created to channel vendor feedback to improve the EHR was immature. After identifying these key issues, OrthoVirginia created the Provider Support Specialist (PSS) program to enhance the EHR experience and improve interactions between providers and their patients.
[ad_2]
Source link