Many CLXTs work under stressful conditions, leading to staffing shortages, primarily in rural Saskatchewan.
Content of the article
Combined lab and x-ray technologist Victoria Senko had hit a mental wall after working grueling hours at Biggar Health Centre.
Content of the article
She had to take stress-related leave from her full-time job earlier this year, later deciding that contract work would give her the flexibility and freedom she craved.
"It was getting a lot and especially where we were," said Senko, who is also president of the Saskatchewan Association of Combined Laboratory and X-ray Technicians. "We worked full time and did on-call duty. That's roughly the equivalent of almost two full-time jobs.
Senko's situation highlights the ongoing problem of burnout among healthcare workers in the province and around the world.
The COVID-19 pandemic has tested their limits in managing an influx of patients, which has not stopped. Many have decided to take time off or quit due to stress.
"It's a tough time for everyone, and they're struggling just because a lot of that work during the pandemic has been thankless, for the most part," Senko said. "It was every man for himself."
Combined laboratory and x-ray technologists, better known as CLXTs, work primarily in rural communities. They are flexible with their skill sets, Senko said, allowing them to meet multiple needs at facilities that typically don't have specialists.
However, the shortage of CLXT is one of the main reasons why there are multiple interruptions in hospitals and health care centers in Saskatchewan.
In many small communities, labs and x-rays are now only available by appointment. In others, the service has become unavailable,
Content of the article
Senko said the shortages came from what she called a "perfect storm".
She explained that many CLXTs are retiring. Most of the new hires are young women who then have to take maternity leave because they are starting a family.
On top of that, working during the pandemic has created immense burnout. New hires are coming to workplaces that are understaffed.
"They are intimidated by the long working hours and the many availabilities," she said. "It kind of goes into this revolving door, being at work all the time."
Dale Clarke, an administrator at Canora Hospital who worked at the front desk, recalls admitting 60 people a day, either for lab services or for emergencies.
"It's one thing for me to sit down and type on the computer. It's nothing," Clarke said. "This is the job that needs to be done by the professionals. And they run in shreds, and they don't have enough hours in the day to see everyone.
Clarke has since sent in her resignation, planning to return to British Columbia as her hours may be reduced. At 58, she also doesn't want to live in a community with limited health services.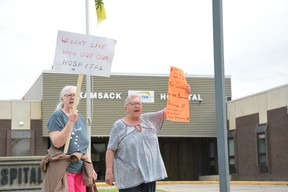 Since Kamsack Hospital's hours were reduced, she has seen an influx of people coming to Canora, leading to increased wait times. Long waits are also playing out in major centers, she noted.
"We have an incredible team at the hospital. These people are so dedicated and so passionate about the work they do, but I see nurses calling in sick because they are exhausted. And the doctors are running out. It's not fair," she said.
Content of the article
Before leaving her full-time position, Senko said she made sure a new recruit could take her place.
She plans to return to full-time work in the future, but said she just needed the break and an opportunity to travel again.
"I have no bad feelings towards Biggar," she said. "Whenever I can fill in, I will."
The province said it is working to put facilities in place to ease the strain on the system, although it cannot guarantee timelines.
Many cities have put in place incentives to try to get people to work in their communities, such as housing allowances.
Senko said cities are doing their best, but added it may take more than dollars to attract workers. She said the child care services available in these communities are important.
Additionally, she said wages should be looked at, noting the province's CLXTs don't earn as much as other provinces.
"A solution to this is difficult and, to be honest, I don't know if I have a definitive answer," she said.
Clarke said more full-time job openings could help attract people to smaller towns. Provincial officials should also visit these facilities to see how busy they can be, she added.
"It's a huge problem," she said. "Health care is important, and when they can't find a doctor in their community, it's really frustrating.
News seems to be flying towards us faster all the time. From COVID-19 updates to politics and crime and everything in between, it can be hard to keep up. With this in mind, the Regina Leader-Post has created a Afternoon titles newsletter that can be sent to your inbox daily to ensure you are up to date with the most vital news of the day. Click here to subscribe.