[ad_1]
A pensioner found dead two days after his car accident in the Highlands was a highly respected retired consultant radiologist, it has been learned.
John Winton McNab – who went by Winton – was reported missing from his hometown of Perth on September 16.
He was found dead in his gray Mercedes B-Class on the A887 road from Invermoriston, near Fort Augustus, two days later.
However, it has since emerged that the car's in-car collision detection system triggered on the day of Mr McNab's disappearance, automatically sending a 999 alert to police.
Officers were dispatched to the scene but were unable to locate the 86-year-old man or his vehicle.
An investigation has just been opened by the Police Investigation and Review Commissioner (Pirc).
"A character, a really adorable man"
Mr. McNab, an avid hiker, was married to Patricia. It is understood the couple had no children but adored their spaniel.
News of the tragedy shocked those who knew Mr McNab, who had a long and successful career – culminating in his election to the Royal College of Surgeons.
Originally from Banff, Mr. McNab received his medical degree from the University of Aberdeen in 1967.
In the years that followed he held a number of posts in hospitals in the north of Scotland, including the Gilbert Bain in Lerwick. He earned a degree in medical radiodiagnosis in 1975 after focusing on radiology and neuroradiology.
In 1977 he took what was to be his last job title as a consultant radiologist in Dundee. There he worked closely with colleagues in neurosurgery, neurology and neurophysiology and contributed significantly to the development of a radiological support service.
A former colleague said Mr McNab had a particular interest in neurological radiology and worked extensively at both Dundee Royal Infirmary and Ninewells Hospital.
"I really know him for his work as a vascular and neurosurgical radiologist, and he was really good," she said.
"He was pleasant to work with and I got on very well with him.
"He was a real character and he had a strong personality, a really lovely man.
"He was an avid hiker and he loved dogs. If you worked with him in places where you could chat, he would always tell us what hills he had hiked recently and what he and his dog were up to.
"A really nice gentleman"
Mr McNab's was elected a Fellow of the Royal College of Surgeons of Edinburgh and of the Faculty of Radiologists of the Royal College of Surgeons of Ireland in 1973 and 1978 respectively.
He also visited radiological centers in Stockholm after receiving a travel grant from the British Institute of Radiology.
It is understood that Mr McNab retired in 1997.
Former colleagues, patients and people in Perth who knew him commented social media messages announcing the death of Mr. McNab.
John McBeath wrote: "Winton was consultant radiologist at DRI during my time there. He was a great character. »
Marjory Greenhill, who had been treated by Mr McNab, wrote: 'He was a really nice gentleman.
Davie Buick posted: "An absolute gentleman, RIP Winton."
Carol Swan wrote: "So sad…he was a lovely man, a true gentleman. Thinking of the whole family."
In a statement after the discovery of Mr McNab's body, his relatives said: 'We would like to thank everyone involved in the search to find Winton, this effort is greatly appreciated by the family.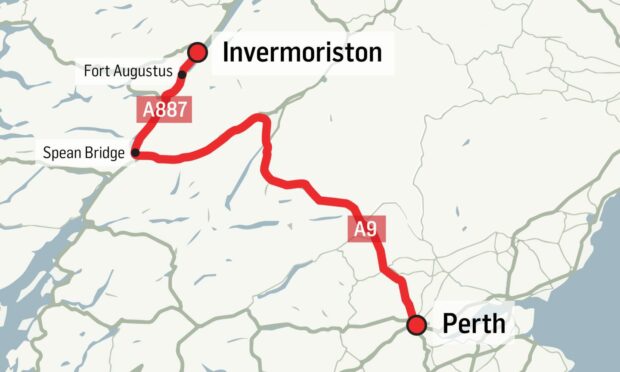 Ongoing investigation
Mr McNab's body was found at around 1.20pm on Sunday September 18 near Invermoriston – around 120 miles from his home in Perth.
It is not yet known if he would have died instantly or if he survived the crash and later died of his injuries.
The Crown Office and Procurator Fiscal Service (COPFS) ordered an investigation into Police Scotland's handling of the incident and referred it to Pirc.
A Pirc spokeswoman said: "We are investigating the circumstances of the death of an 86-year-old man near Inverness under instructions from the Crown Office and Procurator Fiscal Service."
A police spokesman said: 'The matter has been referred to the Police Investigation and Review Commissioner and therefore it would be inappropriate to comment further.'
Scottish Liberal Democrat deputy leader and former police officer Wendy Chamberlain today said it was important that the circumstances surrounding the tragedy were fully investigated.
She said: "This news is extremely sad. I want to express my condolences and support to Mr. McNab's family. It is vital that we continue to allow the police to fully investigate this matter. »
Already subscribed? Login
[Pensioner found dead two days after crash was respected radiologist consultant]
[[text]]
[ad_2]
Source link